OCTOBER 24, 2019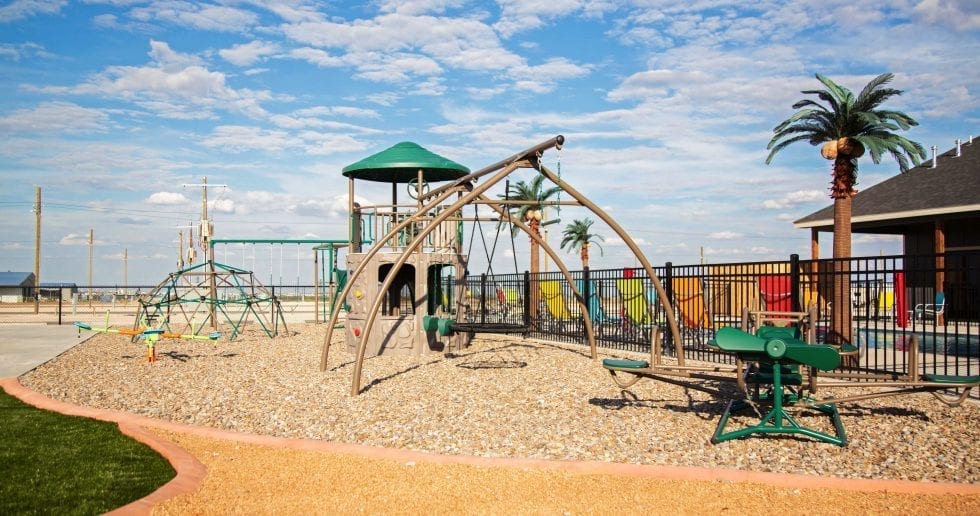 One of the best parts of staying at an RV park and going camping in Texas is the amount of quality family time you're able to have with the ones you love.
There's something special about going somewhere new and getting away from your normal routine — and maybe a little bit from all of your technology.
Here's our list of fun, family-friendly activities and games perfect for your trip:
Play Ball!
At Park Place RV park in Odessa, Texas, fresh air and exercise for the whole family is a top priority. With a sand volleyball court, turf field with soccer goals, and a basketball court located just feet from your RV, all members of your troupe can engage in some friendly competition.
This is also a great opportunity to round up some of your park neighbors, make some new friends, and a play a big game together.
Aside from their traditional uses, there are also many other ways to use these fields and courts for some lower-intensity fun. For example, there are several easy games you can play on the basketball courts, including H-O-R-S-E, Knock Out, Around the World, Golf, or any of these other fun ideas.
Campfire Cones
Who doesn't like to sit outside by the fire and under the stars with a sweet treat in their hand? With Park Place's fire pit and lounge area, the whole family can gather around the fire and create special concoctions.
A great go-to is always 'smores, but if you're looking for something a little different, then we suggest campfire cones!
For the perfect campfire cone, all you need to do is pick up some yummy waffle cones and a variety of fillings. Some great options to grab are bananas, strawberries, apples, graham crackers, chocolate pieces, Reese's pieces, marshmallows, peanut butter, caramel, and sprinkles.
Simply have everyone fill up their cones with their favorite pickings, wrap them in tin foil for safekeeping, rotate them over the fire for a few minutes, and you've got a crispy yet ooey-gooey personalized treat for everyone! With faces stuffed and smiling, it'll be a night to remember!
Nature Scavenger Hunt
In Odessa, Texas, you have many rolling fields as well as public parks surrounding you, such as Floyd Gwin Park, Jim Parker Park, and Progressive Park.
Pack your bags and head over to whichever one you like for a relaxing day. A great way to keep the kids entertained as well as make them use their brains in a fun way is to create a nature scavenger hunt for them.
A great way to organize your scavenger hunt is by the senses. Here are a few possible categories and items within each:
Sight

Find items that are white, patterned, tiny, heart-shaped, long, etc.

Sound

Find items that make a snapping sound, animal sound, soft sound, etc.

Touch

Find something bumpy, wet, warm, soft, prickly, etc.

Smell

Find a flower with a scent, a smell you like, a smell you don't like, etc.
For an extra challenge, have everyone in your party write the name of what they found and/or draw it.
Water Relay
There are many hot days in Odessa, and Park Place's sparkling outdoor swimming pool is a great spot to cool off and play some fun water games.
One of our favorites is water relay. For this game, each participant will stand in a single-file line, each holding same-size plastic drinking cups. The person in front will start by filling their cup with water and then toss the water back over their head, aiming for the person's cup behind them (without looking). The player behind them will try to catch as much water as possible in their cup. This continues until the last person has caught the water — if there's any left. Then, they race to the front of the line and start over.
Any way you look at it, a vacation at Park Place RV park in Odessa, Texas, is an amazing time. Along with these fun activities, you can enjoy a state-of-the-art fitness center, a clubhouse equipped with a pool table, shuffleboard, and TV lounge area, a BBQ station, and much more.
Check out our website and stay tuned to our blog for more tips and tricks for your future road and camping trips!