NOVEMBER 10, 2020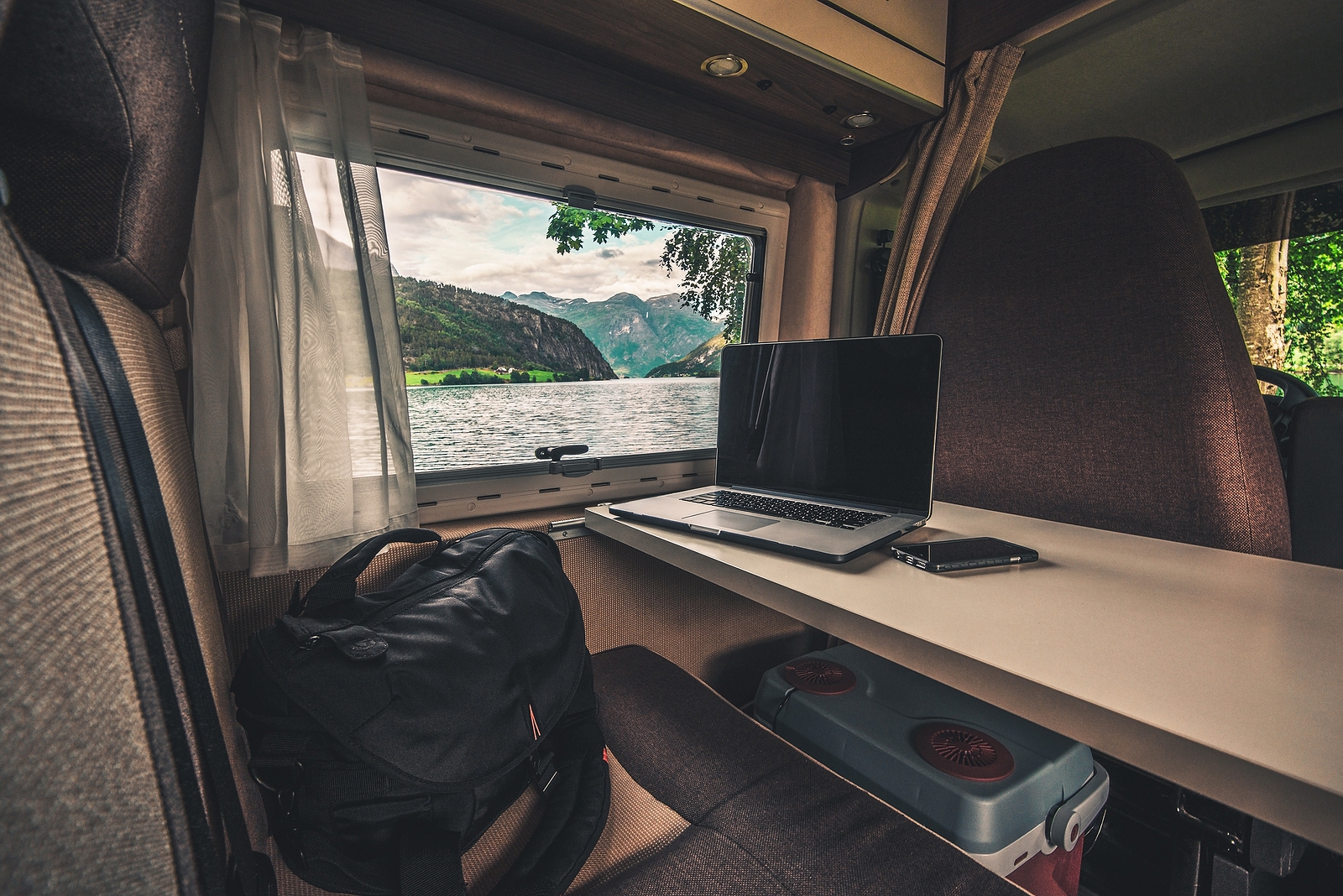 Whether you're staring at the endless spinning beach ball or the infinite turning hourglass, not having a strong campground WiFi connection while you're on an RV trip is incredibly frustrating.
While we always encourage minimal screen-time during vacations, there are many instances where having easy access to the internet is necessary. For example, when you need to communicate with a loved one, answer work emails, check the weather, or get GPS directions. You can easily get stuck in a sticky situation if you're on the road and aren't able to get online. As well, if you have kids with you, good RV WiFi is a life saver on long drives or quiet nights in the camper.
If you're planning an RV trip, we recommend you take a moment to look through the following information. Even if you don't plan on being online a lot, it's important to have access to the internet in case of emergencies or change of plans.
Here is how to make sure your RV WiFi is good to go throughout your trip:
RV Park and Campground WiFi
Fortunately, these days most campgrounds and RV parks offer WiFi. Unfortunately, due to FCC regulations, the range for RV park WiFi signals is limited and the transmitters used are low-powered. On average, signals don't usually travel more than 300 feet. This means, if you are set up on a pad or lot that's farther than 300 feet away from where the transmitter is installed, it'll be a struggle to get online.
On top of that, considering most campgrounds are located within natural areas, you'll often have trees and other foliage to compete with for the signal to properly reach you. That being said, having good RV WiFi on a campground is not a lost cause; there are ways to boost your signal.
How to Improve an Existing Campground WiFi Signal
The best and most efficient way to improve your signal is to use either a WiFi reception booster or antenna. There really isn't much of a difference between these two types of devices other than where you install them; both basically provide the same function — to improve your RV WiFi coverage.
Through using multiple antennas along with an amplifier, these instruments receive and improve internet signals for your electronic devices.
A secondary plus is that they are incredibly easy to install and use. All you need to do is plug the booster into the USB port of your computer and digitally install it onto your device. Then place the booster to face the direction of where the transmitter is. The closer you can get it, the better; feel free to get creative with extension cords. This will ensure the best signal.
Best RV WiFi Boosters for Campgrounds + Traveling
Here is our list of the best WiFi boosters/antennas on the market. They are each differentiated by the top convenience they each offer:
1. Best Overall: Google WiFi System
2. Best Rooftop Antenna: KING KF1000 Falcon
3. Best Value: NETGEAR RV WiFi Range Extender EX2700
4. Best for Long Range: WiFi Camp Pro 2
5. Best for Simplicity: Winegard WF-4035 Black ODU Extender
6: Best for Weather: Bearifi BearExtender
While these are all great options, make sure to do your own research and choose the device that best fits your needs!
How to Provide Your Own RV WiFi When There is None
Some of the best RV trips often include long drives through the mountains, along the ocean, or across remote plains and as beautiful and relaxing as these stretches can be, it also means there's no complimentary WiFi signal coming from anywhere. On top of that, there are still quite a few RV campgrounds, especially the more remote ones that don't offer WiFi as an amenity. If you're an avid RVer, you've likely run into this situation before.
In these cases, it can be helpful to have your own RV WiFi hotspot via your smartphone. This allows you to use your phone as an internet source for all your needs. As a quick disclaimer, if you aren't familiar with hotspot, it will very quickly drain your battery as well as your data, unless you have an unlimited plan.
Of course, there will still be areas in this "wild world" that are too rural or have a high tree density for a hotspot to work well. If you're concerned about this or know that you will be in these kinds of areas on your trip, we suggest you pick up a signal booster specifically built for your phone.
Additional Tips for Good RV WiFi Signal While Camping
Our first big tip for boosting your WiFi signal while RVing and camping is to pay for multiple cell providers. This might feel like a big leap, but it's completely worth it, especially if you need to be online or if you're going to be traveling for an extended period of time. The more providers you can afford the better. With at least two, you can have a hotspot with one and your cell phone with another.
Another reason for this strategy is some areas can have virtually no signal with one provider but multiple bars with another. Have you ever been in a concert hall or a bar with friends and they were able to use search on the internet and you weren't? That's because they likely had different providers and more coverage in that particular spot than you did. Having access to multiple different networks ensures that at least one will have service.
Our other tip is to choose your campsite well. Do a little research into the places you're looking at stopping in and confirm that they offer WiFi either as a complimentary amenity or service for charge.
For example, Park Place RV Park offers complimentary WiFi to all of our guests, no matter how long or short their stay is.
When it comes to ensuring you have good WiFi, it's all about planning. Nowadays, internet service and WiFi access is everywhere; we don't even have to think about it before going online. But that terrain changes when you're traveling, so make sure to plan ahead!