DECEMBER 02, 2019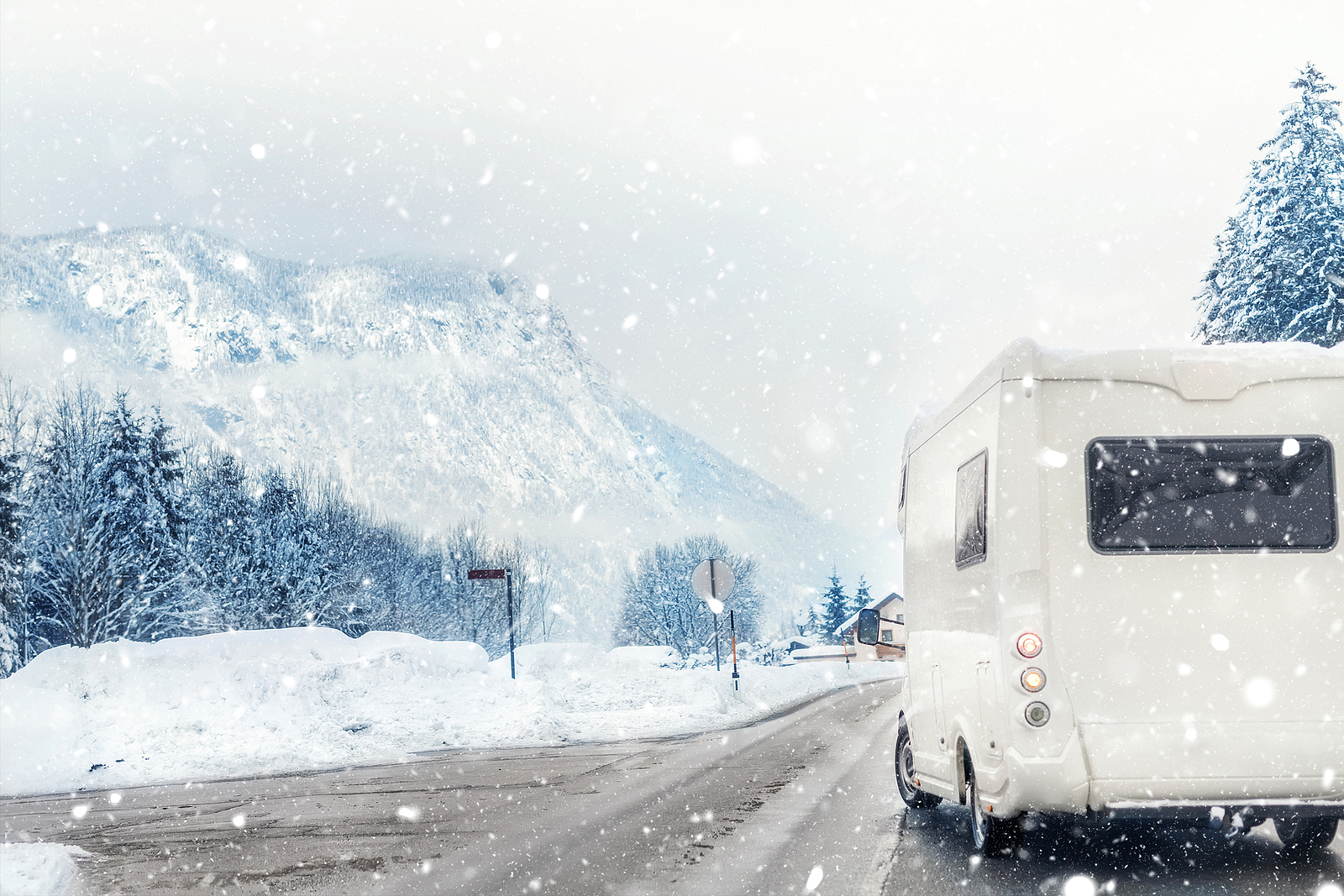 Whether you're planning to take your traveling sleigh on a journey through the cold, or tuck it away for the winter days, it's important to prepare and protect your RV from harsh winter elements that can create costly damage in a hurry.
Storing your RV During the Winter
As you begin to prepare for the winter months, the first question you should ask is where to store your RV when it isn't in use.
While this is mainly a personal decision based on cost and personal preference, here are some things to consider in regards to at-home versus facility storage:
At home: If you have space and are not restricted by state/local laws or a strict homeowner's association, then parking an RV in your driveway or your garage is definitely worth considering.
Here are a few additional things to consider:
If you plan to park on your driveway, make sure it is accessible and won't be in the way of other vehicles.
If the goal of storing your RV at home is to save money, be sure to assess the severity of outdoor elements where you live during the winter. Intense weather conditions may cause damages that cost more to repair than the rent of a storage facility.
Most garages are not large enough to hold an RV — even Class B or C models. Measure ahead of time!
At a storage facility: Storing your RV at a proper storage facility is a great option if you can find one within your budget. By researching local facilities, you can ensure competitive pricing that will offer peace of mind all winter.
Storing an RV outside in the winter can be risky, especially in harsh weather conditions. But with adequate planning and research, you can make the best decision for your situation.
Preparing your RV for Storage
For those who use their RV as a second traveling-home and aren't always on-the-go during the winter months, winterizing the storage of your RV shouldn't be overlooked.
You may think that if it's tucked away and not out on the road, it'll be safe from weather conditions. Unfortunately, winter weather conditions can affect your RV whether it's on your driveway, in your garage, or in a storage unit.
Here's a quick checklist to complete before tucking your camper away for the winter:
Clean out the refrigerator and defrost the freezer compartment. Once finished, simply leave the doors open and place baking soda in the compartments to absorb any odors.
For long-term storage: keep it unplugged and turn off the main breaker in the power distribution panel.
Turn all LP gas appliances off and turn the LP gas supply valve off.
Close the window blinds to avoid sun exposure to the carpet, drapes, and upholstery.
Leave all doors, drawers, and cabinets slightly open.
Clean the A/C filter(s).
If you have vent covers installed on the overhead vents that prevent rain from getting inside, leave them cracked open to allow for some ventilation.
Remove any dry cell batteries from devices like smoke alarms, clocks, etc.
Tips for Safe Winter RV Camping and Traveling
If you plan to use your RV recreationally during the winter, here is your ultimate RV protection checklist for your chilly-good trip:
1. Upgrade Your Insulation
Investing in better insulation will not only help keep you warm in the RV, but will provide protection to many parts of the camper from cold weather exposure.
Consider the following tips for insulating the interior and underbelly for cold weather traveling and camping:
Seal all the windows and doors and replace weather stripping on the exterior sides.
Install window coverings with affordable window film and reflective foil.
Add thick curtains to the inside of windows and doors.
Add foam board flooring or heavy rugs and carpets.
Install RV skirting.
2. Shield the Plumbing
Freeze-ups are a common occurrence during winter RV travel. They are dangerous because they can cause ice to form and expand in the pipes and hoses, leading them to crack or burst.
In order to keep your water flowing and prevent pipes from freezing:
Wrap your freshwater hose and sewer hose with heat strips.
Add foam insulation with tape for another layer of protection.
Open your bathroom and kitchen cabinets so your RV heating can help keep your plumbing warm.
Allow a small drip in your faucets to keep water moving, even overnight.
Put antifreeze in holding tanks to keep valves from freezing.
3. Warm up the Engine
Before beginning to drive, inspect your RV batteries for any corrosion or damage. Make sure your batteries are fully charged and securely connected — batteries that are not fully charged are much more likely to freeze or die.
Additionally, refill your engine antifreeze with the correct amount of antifreeze and water (use at least 50 percent antifreeze for winter camping).
If you're visiting very cold areas, use an engine block heater to warm up the engine before you start driving. If you are in temperatures below freezing, you should run them for about four hours prior to starting the RV.
4. Clean the Furnace
Don't wait until you're on the road to check up on your furnace. Consider having an inspection conducted by a certified RV repair technician.
Clean your furnace thoroughly and check the vents for any damage or obstruction. Also keep in mind that while on your chilly trip, you can use additional heat sources to keep you warm without putting all the pressure on the furnace.
Additional Winterizing Tips
Here are a few additional cautionary steps to take in winterizing your camper:
Bring sturdy wooden blocks to wedge underneath the stabilizing jacks when you park so they do not get stuck to the icy ground.
Since you will not need your A/C unit on this trip, cover and protect it with an insulated AC cover.
Get RV vent covers so that you can keep them open without letting any snow, ice, or rain into your home.
Remove as many unnecessary plastic components as possible — in cold weather, plastic can become brittle and easily breakable.
Put new batteries in safety devices such as carbon monoxide detectors.
While this might seem like a long list, the more you do, the safer and more relaxing your wintery trip will be!
Now that you're all ready to go, how does an exciting trip to a new destination sound? Come visit Park Place's RV park in Odessa, Texas. Not only will it be a nice break from snow and ice on your travels, but also a great place to explore. We can't wait to meet you!